If you hear a forecast of a foot of snow, you know it will mess up your commute and could shut down schools, businesses, perhaps even the local airport. You're prepared for the impacts and will likely adjust your schedule accordingly.
What about an ice storm? Do you know what impacts a half inch of ice accumulation typically produces in your area?
A new index hopes to more clearly communicate the risk from ice storms.
Developed by Sid Sperry, director of public relations, communications and research for the Oklahoma Association of Electric Cooperatives, and Steven Piltz, meteorologist-in-charge at the National Weather Service in Tulsa, Okla., the Sperry-Piltz Ice Accumulation Index (SPIA) uses forecast information to rate an upcoming ice storm's impact from 0 (little impact) to 5 (catastrophic damage to exposed utility systems). Think of this as the Enhanced-Fujita scale for ice storms, issued ahead of the storm.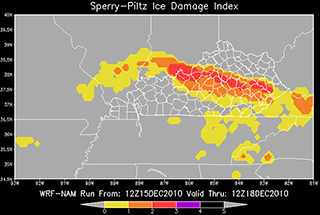 Specifically, SPIA incorporates not only forecast ice accumulation, but also forecast winds and temperatures. Ice storms producing the most severe impacts are those with strong winds accompanying heavy ice accumulation, both exerting stress on power lines and tree limbs.
"The public underestimates the power of wind in an ice storm," said Sperry, who has worked in the electric utilities industry for 34 years and is President/CEO of SPIDI Technologies, LLC.
Sperry described a phenomenon on power lines called galloping, which can occur with relatively little ice accumulation, but high winds. Providing lift similar to that over an aircraft's wing, power lines in this scenario can rise and fall 6 to 8 feet, leading to outages.
Temperature also plays a role in an ice storm's destructive power, but not simply by determining who will be too warm for ice.
"You can have ice accretion on power lines, then warming (above freezing), followed by more freezing rain. When that happens, ice falls off (the power line), causing the line to bounce," Sperry said.
The power of this index lies in its ability to quantify damage potential ahead of time for ice storms, giving electric utilities, emergency managers and the public a clearer picture of how serious tree damage may be and how long power outages may last. The table of ice accumulations, wind speeds, and impacts is shown below, courtesy of Sperry.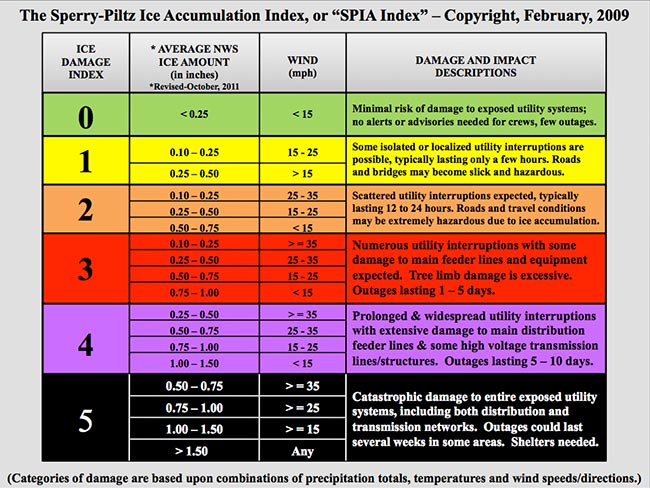 Ice accumulations, wind speeds, and typical impacts of each SPIA index value. (Copyright Sidney K. Sperry/Steven Piltz, spia-index.com)
"This index was tested from Washington state to Maryland to Maine and has been shown to be accurate," Sperry said.
That begs the question every weather geek wants answered: Has there been a level 5 ice storm recently?
"We forecast the January 2009 event as a level 5 storm about two to three days ahead of time," said Sperry.
This massive ice storm produced up to 1.5 inches of ice accumulation in some areas from the Ozarks to the Ohio Valley.
Hardest hit was Kentucky, which suffered its largest power outage in history (over 609,000 customers). Kentucky Gov. Steve Beshear called it the biggest natural disaster the state experienced in modern history. At least 30,000 power poles were downed or snapped in Arkansas and more than 145 miles of high-voltage transmission lines were downed in southeast Missouri. Cleanup from the storm lasted into the following summer.
The massive Quebec, New England 1998 ice storm would also have likely been a level 5 on the SPIA index.
"The more time a utility has to prepare, the more time there is to bring in additional materials and supplies to help restore power as quickly as possible," said Sperry.
Sperry cautions the SPIA index is only as good as the forecast going into it.
In late 2013-2014, 10 National Weather Service forecast offices from Norman, Okla. to Nashville and Paducah, Ky. are testing use of the SPIA index in their forecast products, a zone where ice storms are either a yearly occurrence or have been more frequent recently.
So if you hear of a Category 3 ice storm headed your way this winter, this may be your advance warning for a power outage lasting one day or more. The early heads up the SPIA index provides can be the difference between staying warm in another location not affected by the ice storm, or shivering in your home without power in winter.
Source: By Jon Erdman, The Weather Channel