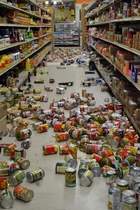 SALTON SEA — Earthquakes continue to shake the south end of the Salton Sea late Sunday in a seismic swarm that experts say is seen only twice a decade.

The tremblers began after sunrise about three miles northwest of the small Imperial County farming town of Brawley. The largest quake of the day, a magnitude 5.5, struck at 1:57 p.m.

More than 300 quakes and aftershocks have been recorded so far at the same approximate epicenter, about 16 miles north of El Centro, according to preliminary reports from the U.S. Geological Survey.

That includes three tremblers at 9:41 p.m. today that were centered in Brawley and felt in the Coachella Valley — 4.9, 3.4 and 3.2-magnitude respectively.

"What we're seeing is a classic Brawley seismic swarm," USGS seismologist Lucy Jones said.

"Our system is choking on so many earthquakes," she continued. "This area of California is deep soils, and we do not get as precise data as we do over the rest of the state, and that makes our data a little less precise."

The swarm will "definitely last for days," and it is possible but unlikely that it could continue for weeks, California Institute of Technology seismologist Egill Hauksson said.

During the most recent swarm, more than 300 earthquakes struck the southern Salton Sea area — one of California's most active seismic zones of the 1970s — in September 2005.

"That area is what we call an extension (between fault lines), so you get these rapid fire sequences that have lots of earthquakes and several earthquakes of similar magnitudes," Hauksson said.

On Sunday, the ground began to spasm about 5 miles north-northwest of Brawley at sunrise, and the town was rocked by a magnitude 3.9 quake at 10:02 a.m.

It was followed by a 3.4-magnitude quake about 90 seconds later in the same area near the southern end of the Salton Sea. Smaller quakes followed within six minutes of the first shock.

No injuries or significant damage were reported.

Power went out at the Pioneers Medical Hospital in Brawley, but has been restored, the Imperial County Emergency Medical Services Agency said. Several patients were transferred to a different hospital.
Coachella Valley residents, mostly between La Quinta and Indio, posted on Facebook and Twitter that they saw the water in their pool splash and watched their hanging lamps swing.

"I totally felt them. I live at the top of the cove in La Quinta. They rolled," Jodi Lynne Rubin told The Desert Sun.

"It was very light. My animals didn't react, but I felt it and noticed my lamp swaying," Veronica Borboa said from Palm Desert.

Some buildings were evacuated in Brawley.

"It's pretty bad. We had to evacuate the hotel just for safety," said Rowena Rapoza, office manager at the Best Western Hotel there.

Several glasses and a bottle of wine crashed to the floor and shattered at Assaggio, an Italian restaurant in Brawley, owner Jerry Ma said. The shaking was short-lived but intense, he said.

"It felt like there was a quake every 15 minutes. One after another. My kids are small, and they're scared and don't want to come back inside," said Mike Patel, who manages Townhouse Inn & Suites in Brawley.

Source - The Associated Press contributed to this report.
Kate McGinty can be reached at (760) 778-6451, kate.mcginty@thedesertsun.com or @TDSKateM.
Source: Kate McGinty The Desert Sun