Editor's note: This is a guest post from Creek Stewart of Willow Haven Outdoor.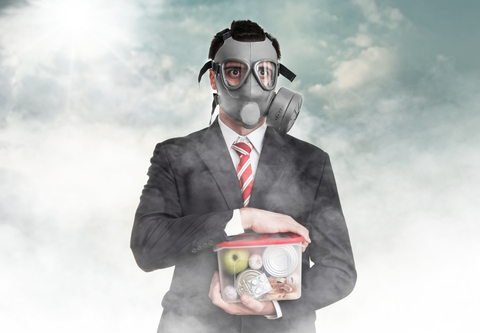 As the East Coast of the United States recovers from Hurricane Sandy, aka "Frankenstorm," the rest of us watch the unfolding aftermath from a distance – thankful Mother Nature hasn't unleashed her fury on our doorstep today. Hurricane Sandy is yet another sober reminder that none of us are exempt from disaster. Mother Nature doesn't discriminate. She doesn't care where we live, what we drive, how much we make, or what we do for a living. Her antics are diverse and far-reaching. She has a recipe of devastation for all parts of the world: hurricanes, tornados, floods, wildfires, winter storms, earthquakes, tsunamis, droughts, heat waves, volcanoes, land-slides, and sometimes even a combo pack.
It is human nature to avoid potentially bad news. It is also human nature to procrastinate. Consequently, many of us avoid going to the dentist, taking our car in for routine maintenance, implementing a home security plan, getting our yearly physicals, and many other important preventative and preparative tasks. Unfortunately, avoiding the thought of potential bad news has absolutely no bearing at all on whether or not it will happen. In fact, this attitude is completely self-destructive. Avoiding preparing for or prevent a very dangerous and probable threat is irresponsible and incredibly foolish. Yet, people do it all the time when it comes to potential natural disasters. The mentality of "it's not going to happen to me" is no longer an acceptable excuse. In the 15 years I've taught Survival and Preparedness courses I've come to the conclusion that there are no acceptable excuses and I have run thin on patience to those that offer them. Burying your head in the sand is not a strategy and depending on the government to save you is not a plan.
Many of you remember the article I wrote a while back titled How to Make a Bug Out Bag. "Bugging Out" is the decision to abandon your home in search of a safer destination in the event of a large-scale disaster. Sometimes, Bugging Out is not necessary nor is it the best decision. A disaster may, in fact, make it impossible to Bug Out. The alternative is called "Bugging In." Bugging In or hunkering down during a large-scale disaster can present many challenges to a survivor. Oftentimes, the utilities we depend on are ripped off-line – known as "Grid-Down."
Disasters can devastate our most critical services including water supplies, medical facilities and first responders, waste and trash processing and removal, transportation options, fuel and grocery supplies, natural gas lines, electricity, phone service, and even public safety. A Grid-Down scenario can last for several days or even weeks. During this time, you must be able to provide basic survival needs for you and your family. These Bug In preps and plans need to be made in advance. They cannot be made in the heat of a disaster.
How to Bug-In: What You Need to Know to Survive a Grid-Down Disaster