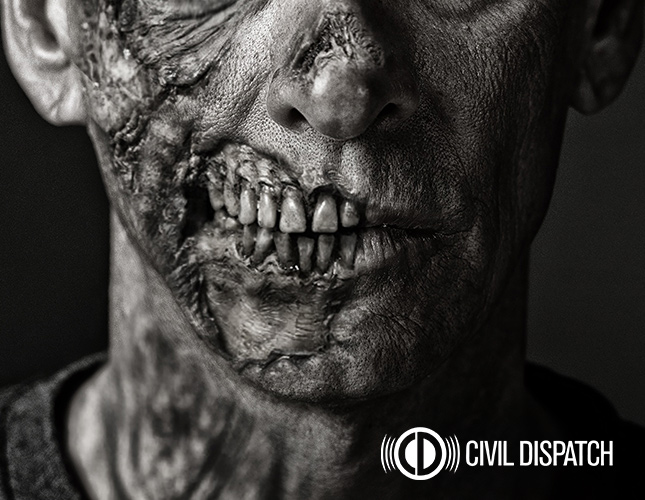 Happy Halloween, Civil Dispatch readers! Here at Civil Dispatch, we are prepping for an intense costume contest and delicious sweets. However, before we rush off to dance among ghouls and ghosts, we want to arm you with some very important Halloween information.
We've spent a lot of time writing articles for this blog to keep you safe because, ultimately, that's our goal. Our writers have covered everything from sea lice warnings to surviving an earthquake.
Today, we are going to prepare you for something we've never prepared you for before: a zombie apocalypse. Here are our best tips you need to know in order to survive.
Buy a Zombie Apocalypse Survival Kit on Amazon Prime.
Don't worry, in as little as two days you will be prepared and ready to go. The kit contains a knife, a multi-tool, a fire starter, a skull mask, a zombie hunting permit, a first aid kit and more. For as little as $23.97, your house can be fully prepared with this reusable tin store close by.
Read The Zombie Survival Guide.
While you're on Amazon buying your survival kit, you might want to add this ultimate zombie survival guide to your cart. The Zombie Survival Guide was published by New York Times best-selling author Max Brooks who wrote World War Z, so you know it's legit. In his book, Brooks outlines the top ten lessons for surviving a zombie attack which includes useful tips such as "use your head: cut off theirs" and "blades don't need reloading."
Create a stockpile of food and water.
While your zombie apocalypse survival kit has you pretty much fully prepped, you will need to stock up on non-perishable food and lots of water. If you're a loyal Civil Dispatch blog reader, you should know by now that officials recommend having three days of food and water per person in your household on hand in case of emergencies.
Zombie-proof your house.
Honestly, it's the same as child-proofing your house for a toddler. Zombies aren't known for being the brightest bunch of monsters. Consider installing gates on stairways to prevent them from chasing you into your bedroom. Get some of those cabinet door locks that even adults have trouble working to protect your food supply. Make sure your tv is securely mounted so they can't pull it off the tv stand and use it as a weapon. Finally, you should definitely install window guards so that the zombies can't open your windows more than a few inches.
Start a vigorous workout plan.
We're talking some serious weight-training and cardio camps. If you're going to survive this zombie apocalypse, you're going to need to be able to fight. Honestly, even if you're just going to run away in fear, which we definitely would not judge you for, you still need to be in good enough shape to run quickly and escape.
If you haven't already, sign up for text messages from Civil Dispatch to get up-to-date information on threats and severe weather in your area!